Publication Date: August 31, 2015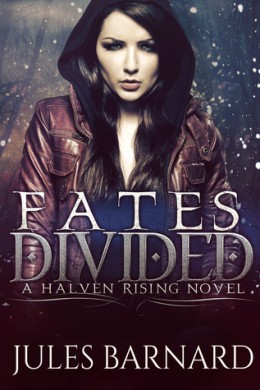 Elena Rosales has busted her ass to get into a good college. She's the only one in her family ever to attend, and expectations are high. No pressure. But Elena's got this one in the bag, because she's as dependable as the molecules she studies, as reliable as the chemical reactions that comfort her in their predictability. Until they don't.
Elena has always wondered why her mother abandoned her on her first birthday. It's not until she turns eighteen and her chemistry experiments go berserk that she learns the truth: Her mother wasn't human, and the Fae are willing to harm those Elena loves if she doesn't use her power over the elements to cure them of a deadly disease. Derek, Elena's brooding neighbor, isn't the friendliest guy, but he has access to an off-hours lab and is willing to help Elena create the antivirus. He has his own secrets to keep, and this business Elena is mixed up in could blow his cover. But when Elena and Derek get together, more than chemicals spark fire-and they soon discover just how complicated attraction can get when they find themselves on the other side of the portal, fighting for survival. Lives collide, and allegiance and love are tested, in
Fates Divided
.
Review
I HEART BOOKS REVIEW



Fates Divided (Halven Rising #1) by Jules Barnard

Review by Theresa Esterline
Stars: 5
Outstanding Romantic Fantasy!!
I loved this story of Elena and Derek finding out more about their true heritage. While the story revolved around the disease trying to kill of the Fae, it was still very much a romance. The Fae realm was explained extremely well and the plot kept me entertained! And now a bit about the story...
Elena is on scholarship at Dawson and enjoying her first semester out on her own, until she starts boiling water with her thoughts on her eighteenth birthday. Instead of going out to party with her roommate Reese to celebrate, she needs to find a lab to see what is really going on. Her need for a safe place to experiment leads her right to Derek, a junior at Dawson, who also seems to have some special attributes. One being extremely handsome and interested in Elena. Now Elena is seeing things, causing safe chemicals to explode, and she fears what may be next. When these two are thrown together with the Fae and discover what Halven are their lives will never be the same. Elena has a constant Fae bodyguard, Keen, who is almost 7 foot tall -- also very handsome. Can Elena and her family survive these changes? Can the two of them really save the Fae who deem them unworthy?
Favorite passages:
- All of nature's riddles could be figured out with logic and the scientific method, given the right environment.
- So far, neither of these guys looked like they could hold a pencil, let alone measure the pH of an acid.
- If she could accidentally boil her solution, what else could she accidentally boil? Jesus—people were roughly sixty percent water. What if she boiled the liquids inside herself? Or inside someone else?
- He scanned her figure, the corners of his mouth curling up as his gaze passed over her cleavage. "The fabric will keep your body warm and protected from the chemicals you'll be using. It has magical properties." But it can't cover boobs.
- Keen was an ass, but the combat training he'd inflicted on them proved him a capable ass.
- Elena kicked him in the butt like she was urging on a horse.
About Jules Barnard
Before turning to storytelling, Jules earned a master's degree in public health and spent many an hour running statistical analysis–until she realized her favorite part of the job was writing reports. She decided to cut out the math and add in some hot guys, and so began her career as a novelist. Jules is a Northern California native living on the coast with her husband and two children. She has no impulse control around cupcakes and credits herself with the ability to read while running on the treadmill or burning dinner.